Certificate of recognition (COR)
Information for the voluntary COR program, through which employers can earn WCB rebates for health and safety systems that meet program standards.
PIR002
Lists the benefits of holding a Certificate of Recognition (COR), the elements that must be included in the certificate holder's health and safety system and the new elements for 2019.

PUBLISHED: June 2019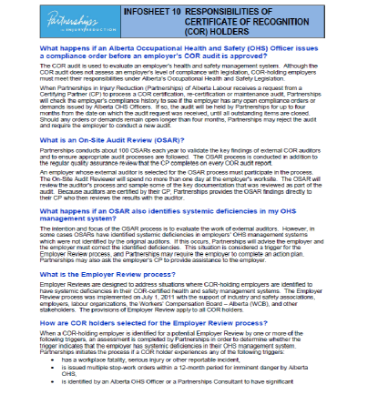 PIR002-10
*** New occupational health and safety laws came into effect on June 1, 2018. The OHS resource below may not have been updated to reflect the current legislation. For more information on the new requirements, visit
OHS website.
***
This resource provides questions and answers on the responsibilities of Certificate of Recognition (COR) holders.
PUBLISHED: January 10, 2018