Fact sheets and flipbooks
Handy quick references, for a variety of audiences.
BP029
Changes to Alberta's occupational health and safety (OHS) legislation reflect Alberta farmers and ranchers. Alberta's OHS laws only apply to farm and ranch operations that employ waged workers who are not the owner or the owner's family members. There are some exemptions. See farm and ranch exemptions at the end of this document. A guide to rights and obligations for farmers and workers under Alberta's OHS legislation. Provides information about hazard identification and control, incident reporting and investigations.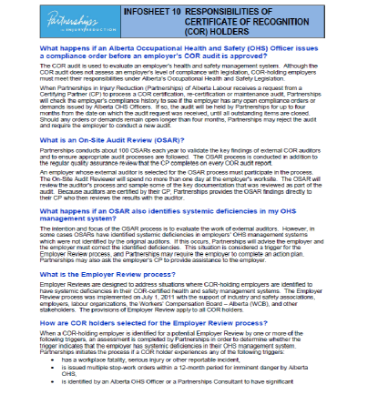 PIR002-10
*** New occupational health and safety laws came into effect on June 1, 2018. The OHS resource below may not have been updated to reflect the current legislation. For more information on the new requirements, visit
OHS website.
***
This resource provides questions and answers on the responsibilities of Certificate of Recognition (COR) holders.